Fable is a full-width WordPress theme built specifically for blogging. It gives you lots of post and page variations built for providing easy reading experience for your blog readers. In this Fable theme review, we'll show its pros and cons and help you decide if it is the best theme for your blog.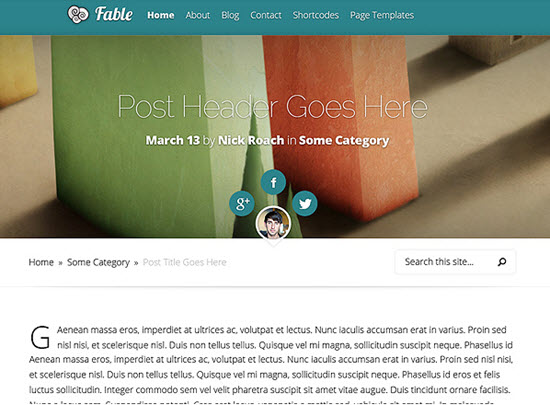 About Fable
Fable is a blogging theme that is aimed at giving your content the full-screen attention that it deserves. It is released by Elegant Themes, a popular premium WordPress themes and plugins hub.
Fable is meant to be a lightweight theme for creating WordPress blogs, so it is not shipped with the Divi drag and drop builder.
You can customize the theme settings using the Fable Theme Options and WordPress customizer.
Let's take a look at some of its features.
Post Formats
The Fable's demo homepage features various post formats. The theme allows you to select different post formats for individual posts.
Fable also allows you to change the background colors and post layout styles in ET Settings, which can be seen just below the text editor. ET Settings gives you different customization options based on the post format you select.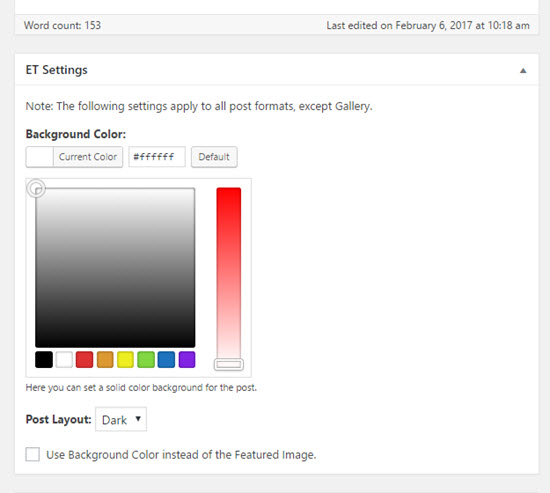 Standard: This format is meant for creating a typical blog article. It doesn't offer you any additional options in ET Settings. However, you can change the background color and the post layout style.
Gallery: ET Settings is not supported for Gallery template.
Quote: You can specify the source of your quote and the source link in ET Settings.
Video: You can specify the video URL in ET Settings if you choose the video format.
Customized Settings for Different Templates
Fable comes with lots of template options. Each template is bundled with several pre-made styles and functions. Selecting a template will automatically give you a corresponding option in ET Page Template Settings.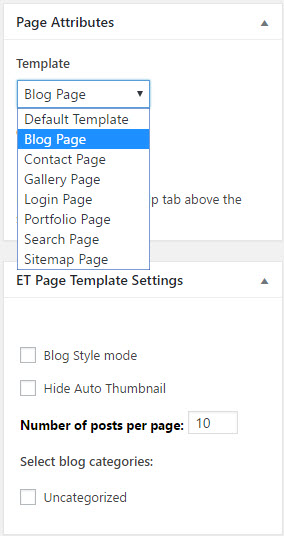 Blog Page: It allows you an option to enable Blog Style mode and show or hide Auto Thumbnail. You can even select the category and specify the number of posts you'd like to display per page.
Contact Page: You can enable regenerate captcha numbers if needed and specify the email address to where the form submissions should be sent.
Gallery Page: You can select the gallery categories in this template.
Portfolio Page: Portfolio template allows you to pick from various page styles. You can show portfolios in 2-grid, 3-grid, 5-grid with text and 5-grid with no text.
Login, Search and Sitemap Pages: While you can customize the content of the pages that use any of these templates, no custom option is provided in ET Page Template Settings when they are chosen.
Unlimited Color Options
For individual posts and pages, you can select any background color or specify the hex code. Best of all, you're not limited by a set of pre-defined colors to pick from.
In addition, the theme Customizer option comes with the Colors option in which you can specify colors for body background, link, main font, header background, menu links and active menu links.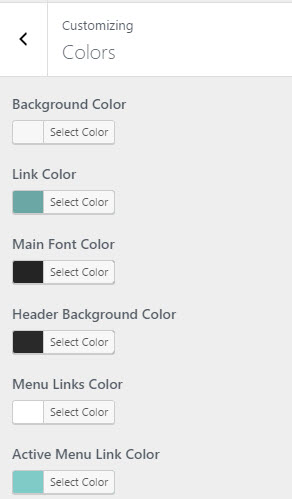 Sidebar is Not Supported
Fable doesn't support a sidebar. All posts and pages will be published as full-width pages. In the Widgets option, you can find 3 footer areas where you can add any widgets according to your needs.

The theme comes with three custom widgets: About Me, AdSense and Advertisement widgets. Though these are the built-in widgets shipped with most WordPress themes released by Elegant Themes, they are useless in Fable because of the unavailability of the sidebar widget area.
In fact, it is a no-brainer that ads shouldn't be shown in the footer area of a site where visibility will be low. The documentation doesn't give a clue on how to use these widgets without a sidebar.
Documentation and Support
The documentation gives you a thorough idea on how to build a beautiful website with Fable. It comprises useful screenshots and videos that help users to easily get started with Fable.
To download the Fable theme, you'll need to join the Elegant Themes Club for just $89 per year. Once you joined, you'll get access to the entire themes and plugins for a year. For lifetime access, you'll need to make a one-time fee of $249.
To get premium support, you can use the Elegant Themes support forums. Elegant Themes are well-known for the quality and speed of their support.
Our Score
Elegant Themes Fable could be the best theme for your blog if you're looking for a full-width blogging theme that is spacious and allows you to give your content maximum attention that it deserves. It would have been better if the theme had given a choice to users to select whether they need a sidebar or not.
It offers various post and page layouts. Users can also choose from unlimited color options.
We give Fable 4.6 out of 5 stars. Here's the breakdown of our scores.
Get Fable Now »
If you liked this article, then please consider following us on Twitter and Facebook. If you have any questions, please let us know by leaving a comment below.