Do you need a WordPress theme for your photography or fashion website? Gleam is a beautifully designed theme for the glamorous photographers or fashion lovers. In this Elegant Themes Gleam review, we'll show its features and help you decide if it is the right theme for your needs.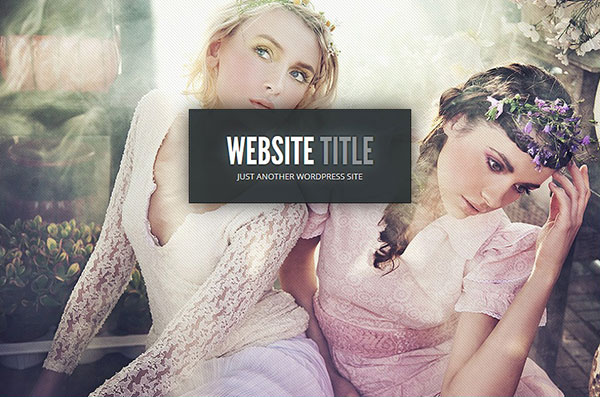 About Gleam
Gleam is a product of Elegant Themes, one of the best WordPress theme selling marketplaces in the world.
The theme is developed for the photographers to display their portfolios beautifully with a fullwidth design. Gleam is a one page theme with a fullscreen background image that can be changed for each page.
You can display your content on the inner pages. The front page of the theme has no content. Menu appears on hover to logo of the website.
Features of Gleam
Gleam comes with tons of amazing features that starts from its one page Ajax based loading. The site opens all your pages on the front in a lightbox.
The content box has a scroll that helps your users to view all the content. Ajax based loading makes your site fast. Gleam has a full page gallery to display your portfolio with thumbnails. It also has a non fullscreen gallery that open up the images in lightbox popups.
Let's take a detailed look into the features of Gleam:
Homepage Background Image
The fullscreen homepage background image is easy to set up from your site. It can be the first step to set up your site. You can simply go to Gleam theme options panel and upload your background image under the Homepage tab.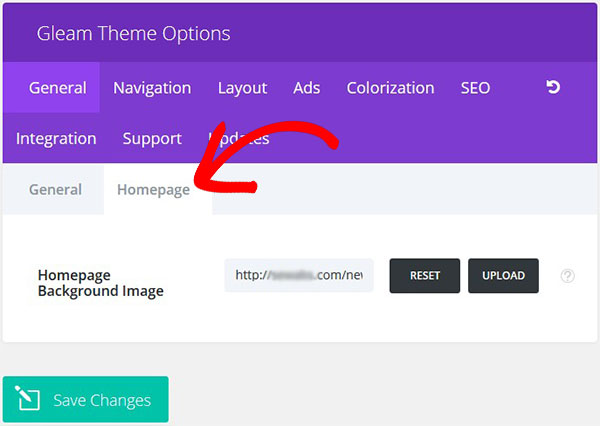 The image should be high resolution to fit to the screen. This setting in the theme option panel will override all other background image options in the theme.
Logo Text, Logo and Fav Icon
In the general theme settings, you can write the logo text or upload an image for the logo. The logo settings of Gleam theme are different from usual WordPress themes.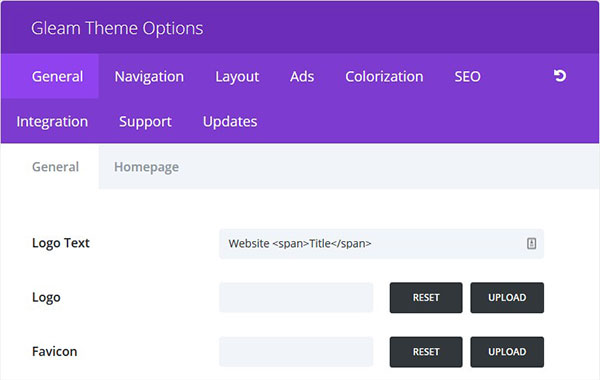 Logo text field also allows HTML with the text to change its styling. Uploading logo image is simple, and it will override the text. Favicon image can also be added in these settings.
Page Templates
Gleam has multiple page templates like gallery, portfolio, blog, contact and more. These templates have their own built in page design. All the templates are different from each other and comes with tons of features.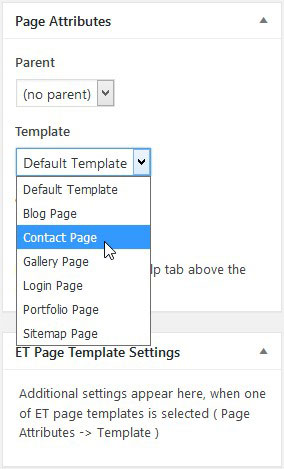 Let's take a look into few of these page templates and discuss them one by one:
Portfolio: The portfolio template make the images of your gallery to appear on full screen with thumbnails and navigation. This page template is great for displaying full page high resolution photos. However, you should optimize your photos to rank in the search engines.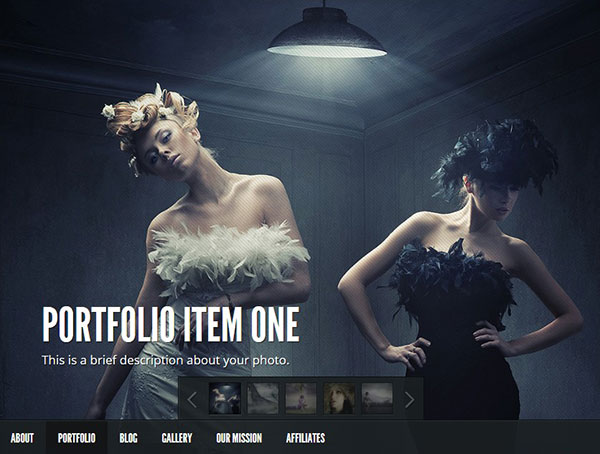 Gallery: The gallery template allows you create an image gallery, and the images would popup in lightbox. It's different from the portfolio page template.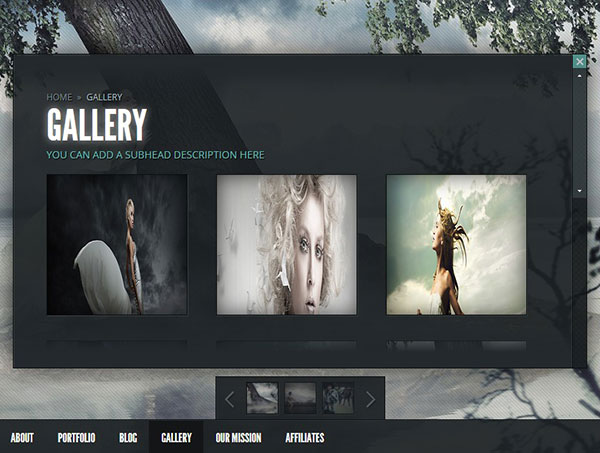 However, for the image galleries on WordPress websites, you should check out the Envira Gallery WordPress plugin. It helps you to create beautiful image galleries with thumbnails and comes with tons of amazing features.
Blog: In this page template, you can simply display your posts with the settings you need for the blog page.
Every page template has its own options that will appear in the ET Page Template Settings section. Once you select the page template, the settings will display automatically for you to manage your page as you need.
Responsive and Browser Compatible
Gleam is a fully responsive WordPress theme that is fast and based on Ajax loading to make the experience smooth for the users.
The Ajax loading means your site visitors don't have to wait to load new pages and it makes the website blazing fast. This WordPress speed optimization would also help in ranking your website to search engines. The theme is browser compatible and loads beautifully on all the popular internet browsers.
Colorization
A theme like Gleam needs a lot of color options to match your links, fonts, etc with your backgrounds. Similar to all other themes from Elegant Themes, you will get the colorization options in the theme panel settings.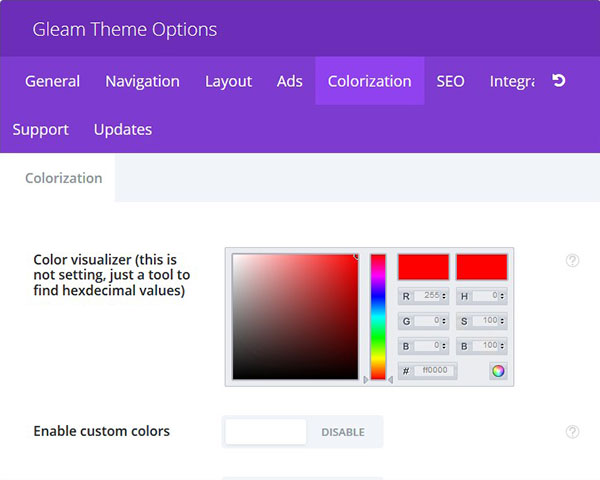 The visualizer allows you to get the hexadecimal color code that you need. You can place each code in the fields available below.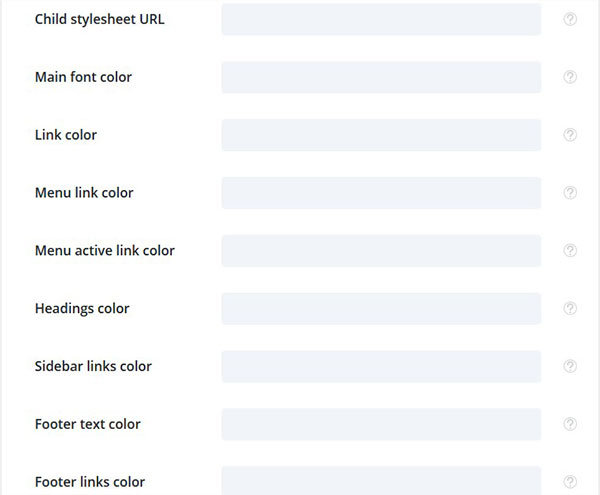 There are options to add colors for the main font, links, headings, sidebar, footer and more. You can change the colors anytime when you need.
Documentation and Support
Elegant Themes Gleam has extensive documentation that guides you on installing and configuring the theme. Useful screenshots and videos are also included in the doc, so you can easily skim through the content whenever you need assistance.
To download Gleam, you'll need to join the Elegant Themes club. Their plan starts from $89 per year. After joining, you'll get complete access to all themes.
To get lifetime access to all themes and plugins with lifetime premium support, lifetime updates and unlimited website usage, you'll need to pay a one-time fee of $249.
Support is offered through their official support forums. Elegant Themes are well-known for the quality and speed of their support.
Our Score
Gleam is an attractive one page theme with its fullwidth design, perfect for your photography or fashion WordPress site. It is packed with tons of great features for you to play around with and get the customization just how you want it to be.
We give Gleam 4.6 out of 5 stars. Here's the breakdown of our scores.
Get Gleam Now »
If you liked this article, then please consider following us on Twitter and Facebook. If you have any questions, please let us know by leaving a comment below.