Are you looking for a sleek theme that showcases your portfolio stunningly? You might want to consider using the multipurpose Elegant Theme Flexible. In this Flexible theme review, we will show you the features and whether it is the perfect theme for your site.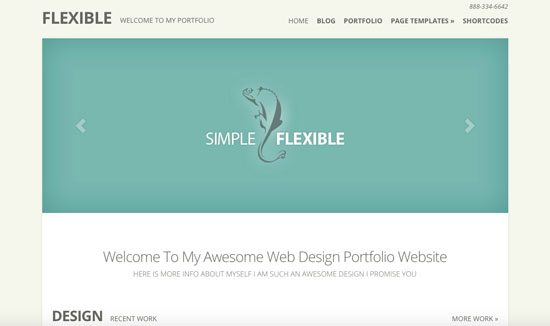 About Flexible
Flexible is created by Elegant Themes, which is one of the leading WordPress theme companies in the world.
Flexible is a sleek and minimal portfolio theme packed full of some awesome features. The theme puts your work first, keeping the design elements to a minimum while still maintaining an elegant style for your site. With its sortable ajax gallery, Flexible is perhaps the most feature rich gallery theme yet.
Features of Flexible
Elegant Theme Flexible is a sleek, eye catching theme for designers who are trying to highlight imagery on their site. This theme offers tons of great features to work with. The typography of this theme is beautiful and clean, and will help your readers engage more on your website. The simple layout of this theme aims to capture the eyes of your audience.
Here are some key features that make Flexible theme a great choice for your site.
Responsive and Retina Ready
This theme is mobile responsive, meaning the theme will change its layout/size to automatically fit every browser, device, and screen size you are on. Since a non-responsive theme can frustrate your users and cause lower search engine rankings, it is important to have a mobile responsive theme. Also, Flexible is Retina ready, meaning your images will remain sharp on all of the devices.
Theme Options
The ePanel theme options panel comes with all of the Elegant Themes. The ePanel allows you to control your website without even having to know how to code. It also allows you to toggle on and off features, adjust your layout, manage advertisements, control colors, optimize for search engines and more. ePanel integrates with the WordPress Dashboard and will appear automatically when you activate the theme.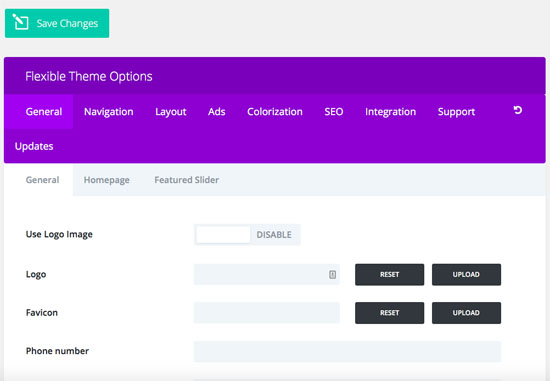 You can use the theme options to get your site up and running in minutes, and start customizing your site in the ePanel with just a few clicks of the mouse.
Ajax Gallery
Elegant Theme Flexible comes with an Ajax Gallery. The gallery items are loaded in smoothly and can be sorted into different categories without re-loading the page. This feature makes browsing the portfolio on your site a much quicker and more enjoyable process.
Shortcodes
With Elegant Themes large collection of shortcodes, you can design and organize your posts more easily. With shortcodes, you can create beautiful and complex layouts without having to know all the complicated codes. Also, shortcodes will tremendously improve the functionality and variety of your content without the frustration that comes with learning advanced web development techniques or hiring someone else to do the coding for you.
Page Templates
Elegant Theme Flexible page templates make site building easier by giving you access to default styles and functions. Each template can be applied to an individual page, transforming the way it looks and functions to create additional and unique forms of content. Using the Elegant Themes Page Templates, you can easily create galleries, contact pages, sitemaps, blog feeds and much more.
Customization
One of the biggest benefits of using Flexible is it gives you the power to customize the color palettes according to your likings. Besides the background and main font colors, you can also customize the colors of the slider background and shadow, progress bar, and more. To customize the colors navigate to Appearance » Customize » Colors.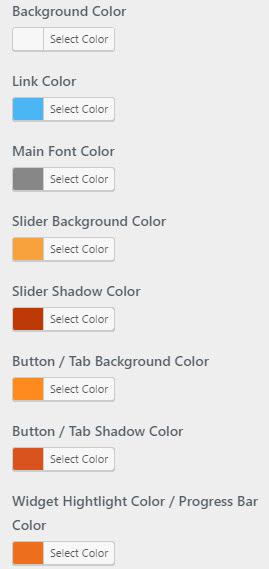 In case you do not want to use the custom color options, you can choose one of the default color schemes. This option comes handy if you're not too confident in your color sense. To customize the color schemes, you can go to Appearance » Customize » Schemes.
Flexible includes some easy to use font customization option in the ePanel. You can choose from dozens of different font options and colors. You can also adjust your body and header font styles independently.
Complete Localization
All of the Elegant Themes, including Flexible, have been localized for easy translation. Each theme comes with sets of .mo and .po files that can be used to translate the theme, which means you don't have to spend hours editing the PHP files for your site.
Documentation and Support
Elegant Themes Flexible has extensive documentation that guides you on installing and configuring the theme. Useful screenshots and videos are also included in the doc, so you can easily skim through the content whenever you need assistance.
To download Flexible, you'll need to join the Elegant Themes club. Their plan starts from $89 per year. After joining, you'll get complete access to all themes.
To get lifetime access to all themes and plugins with lifetime premium support, lifetime updates and unlimited website usage, you'll need to pay a one-time fee of $249.
Support is offered through their official support forums. Elegant Themes are well-known for the quality and speed of their support.
Our Score
Flexible is the perfect sleek theme for your business and portfolio. This theme is shipped with the finest portfolio and gallery page options that include the Ajax filter effects and multi columns portfolio page.
We give Flexible 5 out of 5 stars. Here's the breakdown of our scores.
Get Flexible Now »
If you liked this article, then please consider following us on Twitter and Facebook. If you have any questions, please let us know by leaving a comment below.